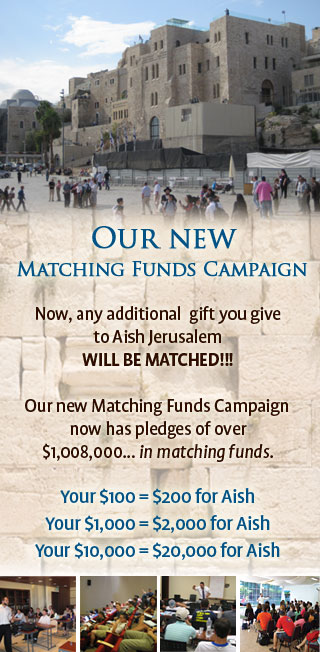 Please complete the form below to make a secure credit card donation to Aish HaTorah.

To send a check, print the form and mail your check to one of the addresses listed below.

secure server


For more information, send an email to .
You may mail your check payable to Aish HaTorah Matching Gift Campaign to:


Aish HaTorah
1 Western Wall Plaza
P.O.B. 14149
Old City, Jerusalem,
ISRAEL
Aish HaTorah Administrative Office
PO Box 1259
Lakewood NJ 08701-3167
Phone: (732) 875-0576
Fax: (732) 875-0576

All donations are tax deductible.
Aish HaTorah has an exemption granted pursuant
to section 501(c)(3) of the Internal Revenue Code.
Our tax ID# (EIN) is: 51-0243498

Click here to see our IRS letter.

Thank you very much.